JAN 1 - DEC 31 BY THE YARD, CIRKUT CAMERA PHOTOGRAPHY
The patriotic undertones of this exhibition organize the show into four themes: War Time, Majestic Views, Community, and Industry. Florida Museum of Photographic Arts. 813-221-2222 FMoPA.org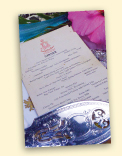 MAR 17 - DEC 23 MENUS: THE EPICUREAN EXPERIENCE
Explore original fine dining menues of the Tampa Bay Hotel and other grand Florida resorts from 1891 to 1932. Blended with these dining elements are behind the scenes of where food comes from and how it is prepared. Henry B Plant Museum. 813-254-1891 PlantMuseum.com
JUN 22 - SEP 24 SKYWAY: A CONTEMPORARY COLLABORATION
Enjoy a celebration of artistic practice in Tampa Bay as curators from John and Mable Ringling Museum of Art, Sarasota; the Museum of Fine Arts, St. Petersburg; and the Tampa Museum of Art come together to share work culled from 300 artists down to 57, showcasing the diversity of art being created in Tampa Bay over the past year. Tampa Museum of Art. 813-274-8130 TampaMuseum.org
JUL 13 - OCT 22 PHOTOREALISM: 50 YEARS OF HYPERREALISTIC PAINTING
Tracing the evolution of Photorealism from 1960 to today. The exhibition presents some 30 artists depictions of ordinary objects and scenes of everyday life such as American diners, chrome features on cars and motorcycles, as well as meticulous portraits. Tampa Museum of Art. 813-274-8130 TampaMuseum.org
JUL 30 - NOV 12 SUSANNE BARTSCH: ART-A-PORTER
Couture designs and looks worn by Susanne Bartsch, New York City's famed "Queen of the Night." Highlighting her celebrated career in fashion, from her early days as a boutique owner in Manhattan's SoHo neighborhood to her legendary parties in New York City's underground club scene. Tampa Museum of Art. 813-274-8130 TampaMuseum.org
SEP 19-24 RENT - 20TH ANNIVERSARY TOUR
Tony Award®-winning masterpiece returns to the stage. A re-imagining of Puccini's La Bohème, RENT follows an unforgettable year in the lives of seven artists struggling to follow their dreams without selling out. With its inspiring message of joy and hope in the face of fear, this timeless celebration of friendship and creativity reminds us to measure our lives with the only thing that truly matters-love. Straz Center. 813-229-7827 StrazCenter.org
JUN 24 MUSEUM DAY LIVE!
Free admission for all visitors during Smithsonian Magazine's Museum Day Live! 10am-5pm.
SEP 24 2017 ADIDAS WANDERLUST 108 TAMPA
The world's only mindful triathlon...a field day for your mind, body and soul. Curtis Hixon Waterfront Park. 7am-4pm. Wanderlust.com
SEP 29 - OCT 1 TFO AND HARRY POTTER IN CONCERT
Relive the magic of the film in high-definition on a giant screen while hearing The Florida Orchestra performs every note from Harry Potter and the Sorcerer's Stone™ unforgettable score. Straz Center. 813-229-7827 StrazCenter.org
SEP 29 - OCT 31 CHAMBER OF TERROR
Fall prey to the Chamber of Terror's "Onslaught." A suspenseful, horrific experience of murder and madness deep inside the hull of this authentic WWII merchant ship. American Victory Ship. Select Dates, 8pm-Midnight. 813-375-9712 ChamberOfTerrorFL.com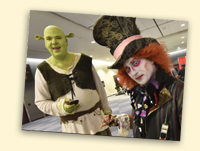 SEP 29 - OCT 1 MEGACON
Meet some of your favorite stars and grab a few autographs, pictures and not to mention all the great booths and costumes to visit and admire! Tampa Convention Center. Fri 4-9pm, Sat 10am-7pm, Sun 10am-5pm. MegaconTampabay.com
SEP 30 11TH ANNUAL CRACK UP CANCER COMEDY SHOW
Featuring some of the areas best comics, including Danny Bevins, Al Romas, John Consoli, Mike McCarthy, Helen Keaney and Kevin Rogers, to benefit Cure on Wheels. Straz Center. 813-229-7827 StrazCenter.org
SEP 30 TAMPA BAY'S TAILGATE TASTE FEST
Bring your friends, family, pets and appetites and enjoy a wonderful afternoon at the park and once again be immersed in the ultimate tailgate experience. Eat food, drink beer, listen to live music and enjoy football on the big screen! Curtis Hixon Waterfront Park. 3-10pm. TailgateTasteFest.com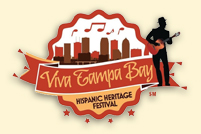 OCT 1 VIVA TAMPA BAY HISPANIC HERITAGE FESTIVAL
Enjoy an exciting FREE Family Art & Cultural Festival, celebrating the beauty of Tampa Bay's Hispanic Communities! Delicious Latin foods, Art, festivities for children, music, cultural dance exhibitions, and Heritage Awards. Centennial Park. 11am-6pm. VivaTampabayFestival.com
OCT 6-8 4TH ANNUAL TAMPA TATTOO ARTS CONVENTION
Featuring artists from Ink Master, vendors, entertainment, contests and more! Tampa Convention Center. Fri 2pm-12am, Sat 11am-12am, Sun 11am-8pm. VillainArts.com
OCT 7 4TH ANNUAL DRAGON BOAT CLASSIC
Kick-off Down Syndrome Awareness Month with a fun-filled day on the waterfront with a dragon boat race every 10 minutes, food vendors, and live entertainment. Cotanchobee Park. 8am-3pm. TampaBayDragonBoatClassic.com
OCT 7 AN INTIMATE EVENING WITH ANDERSON COOPER AND ANDY COHEN: DEEP TALK AND SHALLOW TALES
Join Cohen and Cooper for an unscripted, uncensored and unforgettable night of conversation. The late-night talk show host and the journalist, longtime friends, interview each other and take questions from the audience. It's a live, interactive look behind the scenes of pop culture and world events. Straz Center. 813-229-7827 StrazCenter.org
OCT 7 STEP OUT WALK TO STOP DIABETES
Walk along a beautiful 5K route, in support of diabetes awareness, prevention, and research. Amalie Arena. 7:30am-Noon. 813-885-5007 ext 3013 Diabetes.org
OCT 13 9TH ANNUAL BREWS BY THE BAY
Pour on the fun with endless beers, delicious food from local area restaurants and a sea of live entertainment. Florida Aquarium 8-11pm 813-273-4000 FLAquarium.org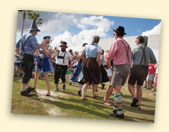 OCT 13-15 OKTOBERFEST TAMPA 2017
The festival of Gemutlichkeit returns with the city's largest, waterfront beer garden. The park buzzes with live music, dancing, Outrageous Bavarian Games, dirndls and lederhosen. Curtis Hixon Waterfront Park. Fri 4-11pm, Sat 11am-11pm, Sun 11am-6pm. OktoberFestTampa.com
OCT 18 - NOV 12 THE THREEPENNY OPERA
Set in London in the 1800s, The Threepenny Opera is a musical satire about a notorious bandit who marries a girl much to the chagrin of her father, forcing the peeved patriarch to do everything in his power to imprison his son-in-law. Straz Center. 813-229-7827 StrazCenter.org
OCT 20-31 A NIGHTMARE ON FRANKLIN STREET
Tampa's most historic - and most haunted - movie palace presents 12 nights of back-to-back classic horror films, ghost tours, family-friendly frights, paranormal experiences and spooky special guests. Tampa Theatre. TampaTheatre.org
OCT 21 TECO LINE STREETCAR FEST
Experience Tampa's Historic Streetcar FREE all day to celebrate 15 years of the TECO Line Streetcar System. Festivities for the whole family with live entertainment. Downtown to Historic Ybor City along the Streetcar line. 8:30am-1:30am. TecoLineStreetcar.org
OCT 21 8TH ANNUAL YBOR OKTOBERFEST PUB CRAWL
Enjoy free samples of Oktoberfest or premium beer at 20 of Ybor's patio bars & pubs. Along with a mix of German food, music, door prizes and drink specials. Ybor City. 4-8pm. Ybor.org
OCT 22 CHILLIN' MUSIC FEST
Join us for a full-day of hugs, high fives, and sun drenched vibes on the banks of the Hillsborough River while listening to some of the very best in Alt - Rock Reggae and Surf genres. Proceeds from Chillin' Music Fest help support Chillin' For Kids. Curtis Hixon Water Front Park. ChillinMusicFest.com
OCT 22 NIGHT AT THE MUSEUM
When the museum closes, the exhibits come alive at this trick-or-treat event. Catch pirates, explorers, Florida pioneers, and even the Ghostbusters sneaking around the galleries. Tampa Bay History Center. 2-6pm. 813-228-0097 TampaBayHistoryCenter.org
OCT 28 2ND ANNUAL TRICK OR TREAT ALONG THE RIVERWALK
Kids in costume are welcome to trick or treat along the RiverWalk and enjoy a family Halloween movie at 7pm in Water Works Park. 4-7pm. Tampa's RiverWalk. TheTampaRiverwalk.com

OCT 28-29 GUPPYWEEN
Come dressed in your best costume to Trick-or-treat among over 20,000 sea creatures. Entertainment and treats provided. Florida Aquarium 1-5pm 813-273-4000 FLAquarium.org
OCT 28 PJ MASKS LIVE: TIME TO BE A HERO
It's time to be a hero! PJ Masks LIVE! is a super-heroic, brand-new live show featuring Catboy, Owlette and Gecko leaping, flipping and climbing as they save the day from sneaky villains Romeo, Night Ninja and Luna Girl. Straz Center. 813-229-7827 StrazCenter.org

OCT 28 TAMPA PIG JIG 2017
Come out and enjoy a day of music, games and most importantly BBQ! Don't forget to bring a bib! Curtis Hixon Waterfront Park. TampaPigJig.com
OCT 31 HALLOWEEN SPREE
Enjoy spooky fun with a safe trick-or-treating alternative. Museum play, trick-or-treating, special programs, costume parade, and more! Glazer Children's Museum. 5-8pm. 813-443-3861 GlazerMuseum.org
NOV 4 MOFFITT ROCKS TAMPA BAY FEATURING 311
Multiplatinum rock band 311 will perform with special guest openers Karl Denson's Tiny Universe and The Supervillains. All proceeds from the concert will benefit lifesaving cancer research at Moffitt. Doors open at 5:30-11:30pm. The Cuban Club. RockBrothersBrewing.com
NOV 4 JUNIE B. JONES
Outspoken, precocious, lovable, Junie B. Jones navigates the angst-ridden world of first grade in this colorful, funny, fast-paced musical about new friends, new glasses, sugar cookies and the annual kickball tournament - all of it recorded, among other adventures, in her "Top-Secret Personal Beeswax Journal." StrazCenter.org
NOV 11 THE GREAT GATSBY PARTY
The roaring twenties come to life as you whisper the password to enter the party at a 1920s speakeasy. A fabulous evening of live music, games, and delectable food. Fletcher Lounge at The University of Tampa. 5-11pm. PlantMuseum.com
NOV 13 SIMPLY THREE
Genre-hopping string trio Simply Three electrifies audiences with their masterful interpretations of styles from Gershwin and Puccini to Adele and Coldplay. Their collaborations with artists such as Janelle Monae, M-Pact and Alyson Stoner have pushed instrumental music to exciting new frontiers. Jaeb Theater.
NOV 17 - JAN 7 WINTER VILLAGE AT CURTIS HIXON PARK
Enjoy ice skating along the Hillsborough River, under the palm trees. Including holiday retail stores, waterfront dining and free entertainment. Curtis Hixon Waterfront Park. WinterVillageTampa.com
NOV 22 THANKSGIVING DINNER CRUISES
Dine in style on a spectacular Thanksgiving cruise aboard the Yacht StarShip. 1:30-4pm, 5:30-8pm. 813-223-7999 YachtStarShip.com
NOV 28-DEC 3 FUN HOME
Based on Alison Bechdel's best-selling graphic memoir, FUN HOME introduces us to Alison at three different ages as she explores and unravels the many mysteries of her childhood. A refreshingly honest musical about seeing your parents through grown-up eyes. StrazCenter.org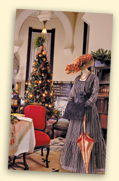 DEC 1-23 VICTORIAN CHRISTMAS STROLL
Stroll down the extravagantly adorned hallways of the former Tampa Bay Hotel. Sing with carolers and meet old Saint Nick. Henry Plant Museum. 10am-8pm. 813-254-1891 PlantMuseum.com
DEC 1 TAMPA'S TREE LIGHTING CEREMONY
Enjoy live music, the countdown to light the tree with Mayor Buckhorn, the Christmas market, and a free movie in the park. Curtis Hixon Waterfront Park. 6-10pm. FriendsOfTampaRec.org
DEC 2 SANTA FEST & TAMPA'S DOWNTOWN HOLIDAY PARADE
Enjoy the Annual Rough Rider's Holiday Parade stepping off 11am at Morgan Street and Madison Street with the best viewing along Madison Street. Then Curtis Hixon Waterfront Park is transformed into a winter wonderland...take photos with Santa, hands-on games and activities, glice skating, and the Christmas market. 11am-4pm. FriendsOfTampaRec.org

DEC 3 YBOR CITY CIGAR FESTIVAL
Cigar aficionados, relish in the "Best" cigars from around the world. Watch as Cuban artisans handcraft cigars. Enjoy food, drink, cigar vendors, dominoes, live music and more. Centennial Park. 11am-5pm. YborCityCigarFestival.com
DEC 5-10 THE BOOK OF MORMON
The New York Times calls it "the best musical of this century." The nine-time Tony Award®-winning Best Musical. This outrageous musical comedy follows the misadventures of a mismatched pair of missionaries, sent halfway across the world to spread the Good Word. Contains explicit language. StrazCenter.org